Simplify event planning. Streamline collection and review.
Think beyond one event to manage your past, present and future events data. Integrate it all with our mobile app.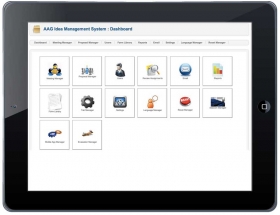 Are you an education manager?  With AAG's Submission software, collect and track thousands of ideas for:
Abstracts

Awards

Fellowships

Nominations

Grants​

Exhibitor Management
Before Your Event: Gather and Review
Use AAG Submission Manager to collect applications. Reviews are easy to assign and have them completed online. Gather information from speakers and authors with our Speaker Manager. Organize every aspect of your conference.
During Your Event: Oversee
Integrate your data into your mobile app. Last minute room changes? Speaker cancellations? No problem. Update everything from the palm of your hand. Give your attendees a smooth conference experience.
After Your Event: Archive and Plan
Planning your next event starts the day after your conference is done. Right? Don't start from scratch. Use AAG's Submission Management System for evaluations, intelligent reports and year-round content delivery.
AAG's Submission Management System for Applications, Reviews, Program and Agenda Building, Sessions and Mobile App
Product Overview
The submission process is only the beginning. Manage every aspect of your event through one platform. We provide the tools you need for before, during and after your meeting. The AAG Submission Management System empowers you to build on your success year after year.
This web application gives members and staff 24/7 access. Members love the simple step by step process to submission any time they choose. Energize Staff with the flexibility to create new calls for proposals with configurable forms, powerful reports and program/session management. One click connection to the mobile app allows for easy updates of speaker information or room changes.
Using our platform, edits in the Submission Management System are pushed out to the Mobile App, instantly informing everyone of changes. Through one interface, you can collect and review applications, create education sessions and distribute content.
Reviewers enjoy the simple one page review process. Your staff will embrace the power of running custom reports and having an email interface to various groups of users.
simple, easy to follow multi-step process
configurable forms for your call
automatic email to coauthor for disclosures
add images, tables, or file uploads
administrative reporting and blast emails
easy one page review process with definable grading criteria
integrated to the mobile app for programs/sessions
How can we make your life easier? Click here to schedule a demo today. Our process starts with learning more about you.
Or call us at 847-512-4412