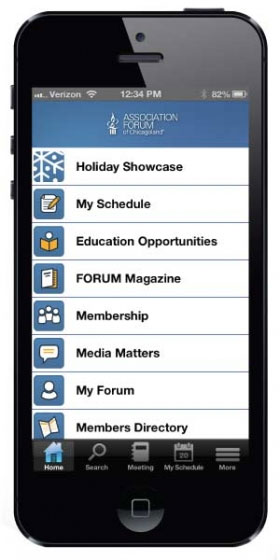 Get your content into the hands of your members, both at your meetings and year-round. Use the AAG Live Response Event App to engage, collaborate, create and educate 365 days per year.
You want an event app that looks like YOU--your organization. AAG mobile apps are customized, flexible and integrated with our other solutions.
You drive the design and functionality of an AAG mobile app. All AAG mobile apps look different because our clients are different. AAG's powerful platform showcases your best to the end user.
Product Overview
The AAG Live Response Event App gives meeting attendees all the info they need at their fingertips. This app features Exhibitors, Sessions, Tracks, My Schedule, Floor Plan and Alerts. Live response technology is built into the native mobile app so you can give attendees things like audience response, polling, surveys, evaluations and even crowd sourcing functions like "Question to the Podium".  It offer social feeds for Twitter or other social media to show the latest Tweets and posts while at the event. Users can see the sessions at a glance, add items to their itinerary or find an exhibitor. Give staff control over the mobile device with our CMS to make changes. Also integrates with Abstract Collection & Review products for seamless flow of data from your education management system to the program book on a mobile app.
Welcome / Splash Screen             
Exhibitors
Sessions & Files
Speaker Info
Tracks

My Schedule

Social Media

Alerts

Evaluations 
Audience Response
Ask the Podium
Floor Plan
Social Media
Notes, Sharing and Protected Content
Alerts & Badges
Social Games
Let us make your next meeting more engaging.  Contact Us to discuss your needs and set up a free demonstration.  Our process starts with learning more about you. Or call us at 847-512-4412
Or  for our Mobile App monthly Insights mailing.